Upcoming Pet Therapy Training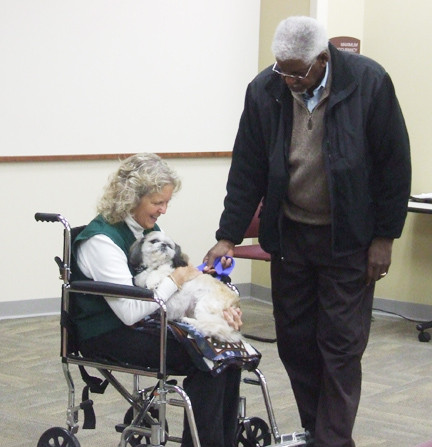 Best Friends Pet Therapy Training--FREE!
Best Friends Pet Assisted Therapy conducts four training sessions each year at no cost to the participants.  Training sessions are gentle for the dogs. 
Classes are held at Oakwood Village in the Community Room, 1500 Villa Road, Springfield, OH  45503.  Enter through the main entrance in the front of the facility.   
The dog must be at least one year old.  The handler must have owned the dog or have known the dog for a minimum of three months. 

We do not teach obedience to the dogs.  Dogs that come to class need to be calm, friendly, and already able to take behavior commands by their owner. 
Must attend all three classes in the session. 
If you are interested in going through pet therapy training with your dog, contact us at:

bfriends2006@gmail.com

Or call us at 937-215-9172 
CLASS DATES FOR 2017 AND FIRST TWO CLASSES OF 2018!
Spring Class 2018 (You must attend all three classes)
April 21, 2018
April 28, 2018
May 5, 2018
Summer Class 2018 (You must attend all three classes)
June 9, 2018
June 16, 2018
June 23, 2018
All classes are held in the mornings on the dates noted.  There are two weeks of classroom instruction with plenty of practice of what is learned during instruction.  Then the third week is a mock test, which is conducted to ensure the team is ready for the Alliance Therapy Dog (ATD) test.  https://www.therapydogs.com/index.html

Or call us at 937-215-9172