2012 NEWS & EVENTS
Best Friends to Participate In Upcoming 2012 CFC Event
Members of Best Friends Pet Assisted Therapy will be joining hundreds of non-profit groups in the Miami Valley on October 3, 2012, from 11:00 a.m. to 1:00 p.m. at the Nutter Center in Dayton, Ohio, for the annual kick off event for the 2012 Combined Federal Campaign (CFC). CFC's mission is to support and promote philanthropy through a program that is employee-focused, cost-efficient, and effective in providing all Department of Defense and Federal employees the opportunity to improve the quality of life for all.
We have made many new friends at this event since we first attended in 2008 by sharing information about our group with visitors. Participants also receive other materials containing information about Best Friends Pet Assisted Therapy to assist with their CFC donation selections. Look for pictures soon from this upcoming event.
Note: Best Friends Pet Assisted Therapy CFC number is 87635.
The following pictures from a past CFC event feature military employees of nearby Wright-Patterson Air Force Base.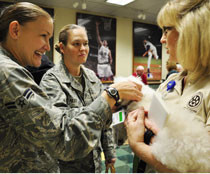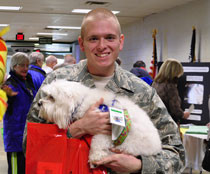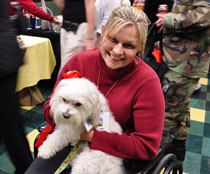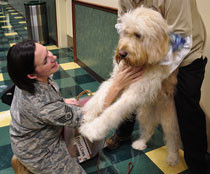 2012 Pet Portait Event Proceeds Donated to Second Harvest Food Bank
On July 21, Best Friends Pet Assisted Therapy hosted a dog wash at Meadow View Growers and raised money to donate to the Clark County Public Library. On August 20, we presented a check to the children's librarian for $215. She was joined by other members of the library staff including the library director who shared enthusiasm for the group's donation and for the group's work each month with the Bow Wow Book Brigade.
On behalf of the library and on behalf of Best Friends, thanks so much to everyone who played any role in the dog wash or was on hand for the check presentation or who works with us in the book brigade. In fact, thanks to each of you who share your time and your pet's love with those in need. It's a genuine privilege to work with such dedicated individuals.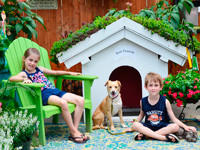 On June 16, 2012, the volunteer teams of Best Friends Pet Assisted Therapy converged on Meadow View Growers in New Carlisle for the non-profit group's 3rd annual "Picture Perfect" digital pet portrait event. People and their pets were invited to bring cash or pet food donations for a quality digital picture with their pets with proceeds being donated to the Second Harvest Food Bank serving Clark, Champaign and Logan counties. Following the event, food was purchased with the cash donations and Best Friends' teams traveled to the food bank to donate 492 pounds of dog and cat food for pets in need in throughout the community. Thanks to all who make this annual event a delicious success!!!
2012 Heart Walk & 2012 Woofstock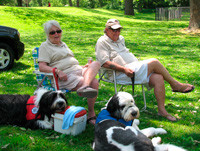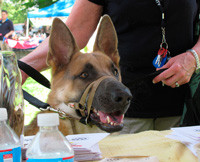 The teams of Best Friends' Pet Assisted Therapy received the opportunity to do a "double" day of fun and helping others and of course, who can resist that invitation? Even if both events are scheduled, back to back, on the same day. On Saturday, May 19, 2012, Best Friends teams' started a very busy day at the Wittenberg University track joining in the festivities of the 2012 Heart Walk for a Healthy Life. In addition to being asked to participate in the walk, we were provided with a booth to share information about pet assisted therapy with event participants as well as acting as a reminder that walking with your dog is a fantastic form of daily exercise—for both of you. The dogs were the hit of the day and received plenty of snuggling and petting from everyone. Just as that event was winding down, we packed up our gear and headed to Wiggley Field in the old Reid Park forWoofstock 2012, the American Red Cross sponsored event we've been attending for the past five years. The Heart Walk was a great way to wake up and start the day and Woofstock was all about the dogs. Vendors and community sponsors joined Best Friends to make the "Day of Doggie Peace and Love" a success and the funds raised at both events were reason enough for lots of enthusiastic tail wagging. Special thanks to the American Heart Association and to the American Red Cross for including Best Friends Pet Assisted Therapy in their annual events. We look forward to seeing you next year.
Bow Wow Book Brigade gets Rave Reviews from Readers
Just like an exciting novel, Best Friends Bow Wow Book Brigade began with a fantastic opening day and has been generating excitement in the program ever since. The staff and visitors to the Clark County Public Library have been enjoying the teams of Best Friends since October. The program will continue in 2012 with future dates being announced by the library. For more information, call the children's department at the library for details and the dates of upcoming Brigade events. Here's a look at some of the previous sessions.
See more pictures below from our Bow Wow Book Brigade below
Happy Holidays From the teams of Best Friends Pet Assisted Therapy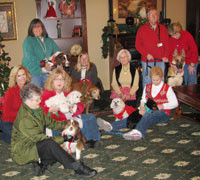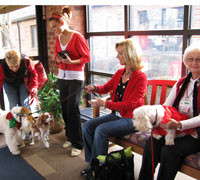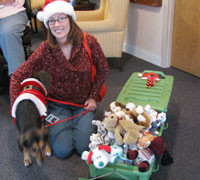 In the midst of preparing for the holidays, the teams of Best Friends Pet Assisted Therapy took time from their weekends to bring smiles and laughter to the residents and staff of several area nursing homes. And since this is the time of year for giving, our teams brought along plush toys sharing these cat and dog "stuffies" with the grateful residents who loved the snuggly reminders of our visits. Special thanks to everyone at the nursing homes as well as to each of the teams who made these trips part of their holiday schedule. Your smiles are brighter than the grandest Christmas tree and your laughter is a sweeter sound than a holiday carol. Thanks for bringing holiday joy to others.
Second Helpings Anyone?
The teams of Best Friends Pet Assisted Therapy returned to Second Harvest Food Bank bringing along with 164 pounds of pet food collected at the digital photo event during the annual Bow Wow Ween festivities at Meadow View Growers in New Carlisle. Thanks to the generosity of those who participated, we smashed our previous record (from the June Picture Perfect digital photo event at Meadow View) of 102 pounds. Pets add so much to our lives and ask so little in return. Being able to help feed less fortunate pets in our community is one of the things for which the teams of Best Friends are most thankful.
Bow Wow Ween – Raising Fun and Funds for Pets in Need
On Saturday, October 29, the teams of Best Friends joined area pets and people for a howling good time at Meadow View for Bow Wow Ween, the annual doggie costume parade and contest at the New Carlisle growers. All 2-legged and 4-legged participants seemed to have a great time and Best Friends added to the festivities by offering digital pet photos of dogs and their humans in costume for the price of pet food to be donated to Second Harvest Food Bank. In addition to filling tubs with dog and cat food, the group raised $124 to be used to purchase even more food for pets in need in the community. Thanks to everyone who participated especially our friends at Meadow View who really know how to roll out the "green" carpet to make people and pets feel welcome!
Holiday Spirit was in the Air at the Northwestern Craft Fair
For the past four years, the teams of Best Friends Pet Assisted Therapy have added to the holiday fun at the Northwestern High School Craft Fair. Selling lots of holiday craft and pet-related items, we are happy to be part of this annual event as it gives our members a chance to spread the word about pet assisted therapy while chatting with shoppers at the fair. This year, we made an amazing $320.99 to help train, evaluate and register pet therapy teams in the coming year. Thanks to everyone who volunteered, donated items or shopped our booth. We are proud of all that each of you contributed!
This sort of participation reminds us that while there is no "I" in team, there is most certainly a "YOU" in "us" and each of you is part of the reason that Best Friends exists.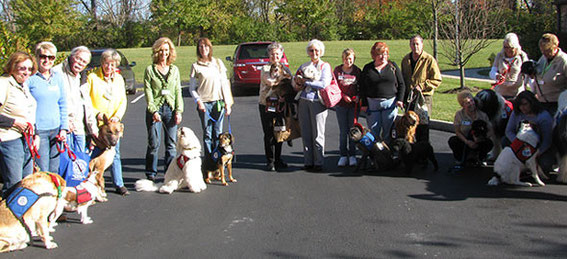 Best Friends brings 2011 Holiday Cheer and more to area Nursing Homes
The teams of Best Friends Pet Assisted Therapy brought holiday cheer and more to the residents of Oakwood Village during a recent group visit. In addition to the fifteen pet therapy teams who arrived at the facility on Sunday, Nov 5, the visit provided a great time to begin the "Stuffed with Love" program.
During the visits with enthusiastic residents, the teams distributed plush dogs and cats that have been collected and cleaned prior to arrival at the facility. After visiting with the therapy teams, each resident was given a token of the visit; a plush dog or cat of their very own. The residents' response was immediate and overwhelming as they clutched their new 'stuffie' friends and chatted excitedly about possible names for their new pals.
Best Friends will continue holiday visits including the "Stuffed with Love" wagon throughout November and December. If you are interested in a group visit in the Clark County (Ohio) area, please feel free to call (937) 215-9172) or send an e-mail message to let us know. Happy Holidays!!
Best Friends Brings Halloween Cheer and More to Area Nursing Homes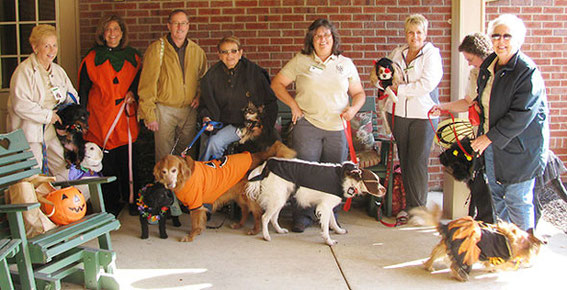 While the teams of Best Friends spend all year making pet assisted therapy visits to local hospitals, nursing homes, schools and libraries, the holidays represent a special time for Friends to increase the joy by increasing the number of teams visiting together.  This year, the first group visits came on October 30 at both Hearth and Home facilities where the pets entertained residents by wearing their Halloween costumes.  Then, one week later, it was on to Oakwood Village to spend time with the residents and their families and facility staff.  More group holiday visits will follow to area facilities, schools, and libraries as our best friends share their love and joy with those folks in need throughout the community.  After all, aren't holidays a great time for getting together with our Friends to bring happiness to others?
All Dogs Deserve To Have Some Best Friends
In Best Friends Pet Assisted Therapy, every dog is considered special by their pet parents and family as well as the staff and patients/residents of the facilities that the teams visit.  Unfortunately, not all dogs enjoy the same lifestyle.  When the teams of Best Friends learned about the organization, Dogs Deserve Better, while we were at Woofstock, we decided to get involved.  We used the money we raised this year (2011) at Bow Wow Wash to help this group as they strive to improve the lives of dogs who spend most of their time attached to a chain in a back yard where they receive little or no interaction with people or other pets.  At a recent board meeting, we presented a $300 check to Dogs Deserve Better representative, Kristin, who assured us that 100% of the money would go toward helping dogs in our community through "The Backyard Project".  Thanks, Kristin, for all that you do to help those who have no voice of their own.